Valley of Blades

Location

The Harborage

Reward

Sword Saint's Choker
1 Skill Point
High Leveled
Glyph of Health
Valley of Blades is a quest in Elder Scrolls Online.


Quest Information
Varen has asked me to accompany Sai Sahan on a trip back to his ancestral home. An old friend, Kasura, may have knowledge of how to sneak into Sancre Tor.
Start
Walkthrough
Talk to Sai Sahan in the Harborage.
Talk to Sai Sahan in the Valley of the Blades.
Find Kasura.
Destroy the three sigil stones.
Defeat the titan.
Talk to Kasura.
Enter the Ancestral Crypt.
Talk to Sai Sahan.
Retrieve the Ring of Stendarr's Mercy.
Talk to Kasura.
Defeat the enemies.
Talk to Sai Sahan.
Talk to the Prophet in The Harborage.
Trivia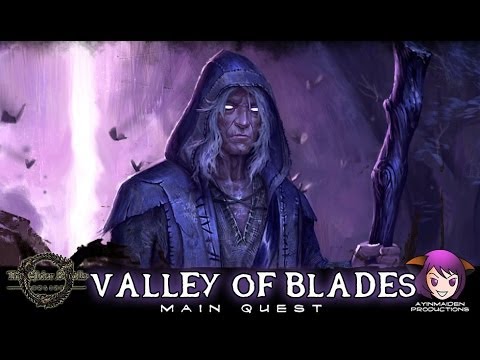 Back to Walkthrough Index | Malabal Tor Quests
Join the page discussion
Tired of anon posting? Register!