The Seal of Three is a quest in Elder Scrolls Online.


Quest Information
A large Maulborn force used the sewers to sneak into Mournhold. I need to find them before they can complete their nefarious plan.
Start
Objectives
Talk to Almalexia
Enter the Tribunal Temple
Close the Daedric Portals
Portal(Hidden)
Pray at Almalexia's Altar
Talk to Almalexia
Pray at Vivec's Altar
Pass Sotha Sil's Trial
Talk to Almalexia(Hint)
Repair the Arbiter of Perfection(Hint)
Receive Sotha Sil's Blessing
Find Vivec's Cloister
Pass Vivec's Trial
Talk to Almalexia(Hint)
Investigate the Scene(Hint)
Uncover the Traitor(Hint)
Receive Vivec's Blessing
Find Sotha Sil's Cloister
Enter the High Chapel of the Three
Defeat Maulborn Priest Sathram
Talk to Almalexia
Next Quest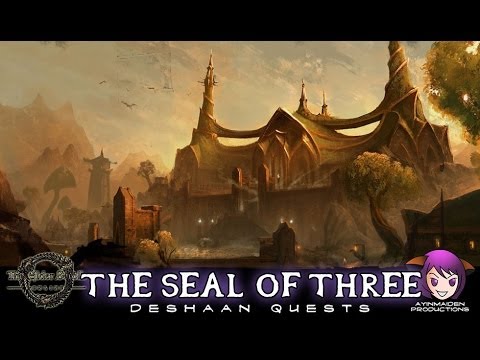 Back to
Walkthrough Index
|
Deshaan Quests
Join the page discussion
Tired of anon posting? Register!