Quest
: Special Blend
Questgiver
: Gamirth
Level
: 47
Location
: The Everfull Flagon
Reward
: Everfull Girdle, 580 gold
Video Guide:
Click here
Note:
Gather Kyne's Tears
- These are tiny plants around tree trunks.
Find Hautt's Lute
- You will find it inside a barrel of the burnt down house
"I came across a dead body on the path to the Everfull Flagon. The dead body clutches a note.
"
Objectives:
Read the Note
Talk to Tavern Patrons
Talk to Nelhilda
Locate Kyne's Shrine
Find a Runestone of Kyne
Kill the Spinner of Lies
Gather Kyne's Tears
Give Kyne's Tears to Nelhilda
Take the Purifying Potion
Purify the Casks of Special Blend
Talk to Bernt the Brittle
Talk to Hautt
Talk to Hridi
Find Hautt's Lute
Find Hridi's Dueling Daggers
Find Hridi's Daggers
Return to the Everfull Flagon
Talk to Bernt
Find the Thane's Lair
Defeat the Thane
Set the Villagers' Souls Free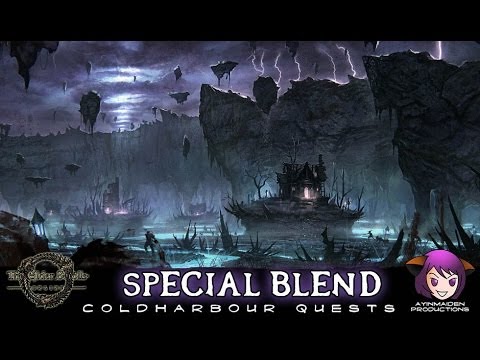 Back to
Walkthrough Index
|
Coldharbour Quests