Restore the Silvenar

Location

Reward

The Hound's Helm
1 Skill Point
High Leveled Gold
Restore the Silvenar is a quest in Elder Scrolls Online.


Quest Information
Indaenir, the new Silvenar, traveled across Malabal Tor to marry the Green Lady and fulfill his role as the spiritual leader of the Wood Elves. But the Hound arrived first, and is trying to usurp his position.
Start
Walkthrough
Talk to Scout Anglith.
Retrieve six silver shards from the Houndsmen.
Talk to Scout Anglith.
Defeat the Guardian of Silvenar.
Talk to the Silvenar's projection.
Question three Houndsman Bewitchers.
Talk to the Silvenar's Projection in the Great Tree.
Free the three spinners by solving the puzzles or killing them.
Defeat the Hound.
Talk to the Green Lady.
Watch the ceremony.
Talk to Spinner Dothriel.
Trivia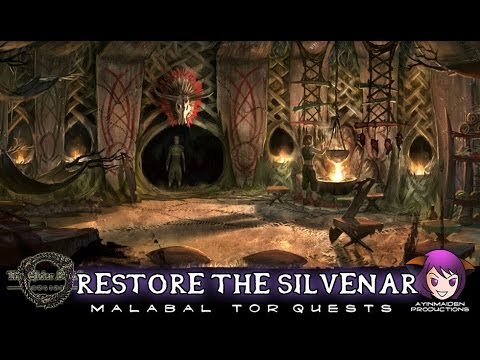 Back to Walkthrough Index | Malabal Tor Quests
Join the page discussion
Tired of anon posting? Register!