Light from the Darkness is a quest in Elder Scrolls Online.


Quest Information
This tower is a lightless oubliette, a prison of darkness that binds King Laloriaran Dynar, the last Ayleid King.
Start
Walkthrough
Talk to the Projection of King Laloriaran Dynar
Enter the Tower
Take the Flameshadow Crystal
Place the Flameshadow Crystal
Use Light of Meridia to Disrupt Binding Shadows
Take the Mindshadow Crystal
Place the Mindshadow Crystal
Take the Lifeshadow Crystal
Place the Lifeshadow Crystal
Recover Oubliette Crystals
Enter King Dynar's Prison
Activate the North Emitter
Destroy the North Receiver
Activate the South Emitter
Destroy the South Receiver
Set King Laloriaran Dynar Free
Talk to King Laloriaran Dynar
Follow King Laloriaran Dynar
Meet King Laloriaran Dynar in the Hollow City
Trivia
Video Guide: Click here

Note:

Set King Laloriaran Dynar Free
Destroy the North/South Receiver: Rotate the crystal prisms until they all connect together and then finally go to the Receiver. Each prism takes about 5-6 presses to get their light rotate to the next one.
Prerequisite Quest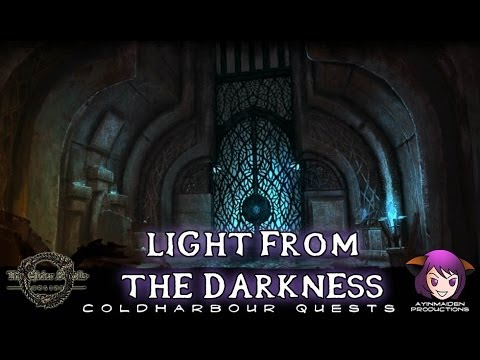 Back to Walkthrough Index | Coldharbour Quests
Join the page discussion
Tired of anon posting? Register!