Imperial City DLC was added to Elder Scrolls Online (ESO) in August/September of 2015 for PC, Xbox One and Playstation 4. It introduced a new zone called the Imperial City, that is located inside of Cyrodiil. In addition, many new Sets were added to the game, including new Crafted Sets, as well as 2 new Dungeons: White-Gold Tower and Imperial City Prison.
Imperial City is a DLC for the Elder Scrolls Online which adds whole new location - the Imperial City along with the following items
A brand new PvP/PvE space, including the six Imperial City Districts
New quests and key characters within the Imperial City
One new Imperial City PvP Public Dungeon: The Imperial Sewers
Two new PvE Imperial City group dungeons with Normal and Veteran versions: White-Gold Tower and Imperial City Prison
The Tel Var Stones currency system
Adds new Imperial City Sets, only available in Imperial City
Treasure Vaults that contain new high level set jewelery and a chance for even rarer finds
New collectibles only available in Imperial City (pets, polymorphs, and a costume)
ESO Imperial City Review
Read the article here
The Imperial City DLC game pack was launched on August 31st 2015 on PC/Mac, Xbox One on September 15th, and PlayStation®4 on September 16th.
The full Imperial City DLC game pack is included with an active ESO Plus membership. If you are not an ESO Plus member or your membership lapses, the Imperial City DLC game pack originally cost 2,500 crowns in the ESOTU Crown Store, but since September 2019 it has been available for FREE.
It should NOT be confused with the "Digital Imperial Upgrade" - which predates the Imperial City DLC by over a year, and which shares only the name of Imperial with this DLC. The Digital Imperial upgrade, which can be obtained separately, is the upgrade that offers the Imperial race, crafting motif, a horse and pet, and a few other things.
How to Enter & Leave The Imperial City ?
Hit "L" to take the option to enter the Imperial PVP/PVE areas. In the original game, this gives the option of the various Cyrodiil campaigns: with this upgrade, it gives the options of Imperial City visits as well, in two types, "with Champion Points" and "no-CPs". Once inside the Imperial City, you'll be in your alliance's home base location—a safe area—in the Imperial Sewers.
In your alliance's home base, you will find a general—talk to him/her to progress the quest you received in a letter from your alliance's Imperial City captain.
Talk to the Drake of Blades in your alliance's home base to complete the quest, and begin the PVE quest line of your Imperial City adventure - but beware, your home base (where you will respawn if killed) is the only safe place, the rest of the Sewers and the Imperial City streets are PVP areas, and anyone not in your alliance will be out to get you!
You can leave the Imperial City either through the entrance behind your entry point in your home base: or by switching to a Cyrodiil PVP campaign: or by entering either the Imperial City Prison or White-Gold Tower dungeons with a group and completing them.
If you leave the Imperial City by way of exiting the Imperial City Prison or White-Gold Tower dungeons, you will return to wherever you were in Tamriel before entering the PVP areas. This is in line with any other trip to any other co-operative Dungeon or Trial.
To leave the Imperial City normally, you go through your alliance's home base in the Imperial Sewers, the same way you came in. This, too, will return you to wherever you were in the non-PVP parts of Tamriel (defaulting to your alliance's capital city if the game for some reason cannot remember, or you came from a place that you no longer have access to.)
Or you can switch to a Cyrodiil PVP campaign, in which case you will spawn in your alliance's home base on the edges of the main province of Cyrodiil, and can leave that to return to Tamriel by means of the wayshrines in the home base.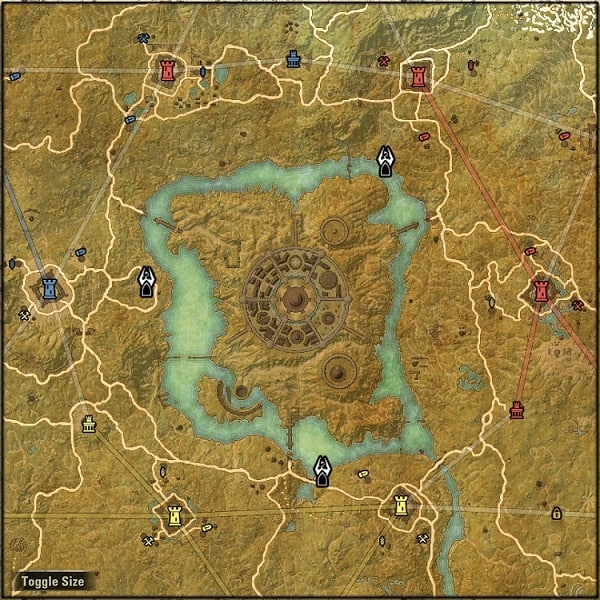 Activities in the Imperial City
The Imperial City offers many activities you can participate in. Whether you're interested in strictly PVE, PVP, or a little of both, here are some of the ways you might choose to spend your time in the Imperial City:
Run through the White-Gold Tower or Imperial City Prison dungeons with three friends.
(You can also queue for these dungeons outside of the Imperial City, but you must have the DLC game pack.)
Battle enemy-alliance players and Molag Bal's forces, including the Xivkyn,
in the Imperial Sewers and six Imperial Districts. Try to take control of these districts for your faction.
Earn Daedric trophies from your monster kills to open Treasure Vaults—found around the Imperial City—
for high quality jewelry sets and other rare finds.
Play through the Imperial City storyline, started by the Drake of Blades - or through any of a number of repeatable daily quests.
Collect Tel Var Stones by defeating Molag Bal's minions and enemy alliance players
—and try to keep yours from being taken!
Enter the Imperial Sewers and hunt Trove Scamps for gold and crafting supplies,
and Cunning Scamps for Tel Var Stones.
Search for Xivkyn motif Chapters to craft the new Xivkyn style armor and weapons.
Get powerful new good-quality weapons and armor by completing the White-Gold Tower and Imperial City Prison dungeons (and the Undaunted Pledges for them), and good-quality armor sets by trading in your Tel Var Stones. All such items are guaranteed to be of at least Exceptional (blue) or Epic (purple) quality, and are scaled (like other equipment drops elsewhere) to your character level at the time you get them, capping at level 50 / 160 Champion Points, so for best results, be L50/160 or better before you adventure here. (Even in the no-CP campaign, the number of CP you have at least affects the generation level of equipment, and the equipment you can wear.)
Craft three new weapon and armor sets via the set-specific crafting stations found in Imperial City.
Earn new collectibles by completing achievements, slaying Molag Bal's elite forces in the Imperial Sewers, and by trading in Tel Var Stones.
Imperial City DLC Gallery
Join the page discussion
Tired of anon posting? Register!