Heart of the Matter is a quest in Elder Scrolls Online.


Quest Information
After a harrowing experience at the hands of Magister Gothren, Sun-in-Shadow finds herself at a crossroads—torn between a mage's ambition and the fruits of companionship. Dedicating herself to one may well destroy her chances at the other.
Start
Walkthrough
Talk to Sun-in-Shadow outside Tel Aruhn tower after finishing The Magister Makes a Move.
Meet Sun-in-Shadow at her house and speak to her again.
Talk to Eoki at the docks.
Go to the Gateway Inn to talk to Atarga. She's drunk and leaves the room, so talk to Lagdabash instead.
Sun-in-Shadow enters the Inn. Talk to her.
Find Bothamul near Tel Aruhn and speak with him.
Meet and talk to Eoki outside Vassamsi Mine.
Enter the mine.
Deal with the guards and help the slaves escape.
Defeat Slavemaster Arenim.
Talk to Sun-in-Shadow and help her decide what to do about Eoki.
Leave the mine, then talk to Sun-in-Shadow once more.
Trivia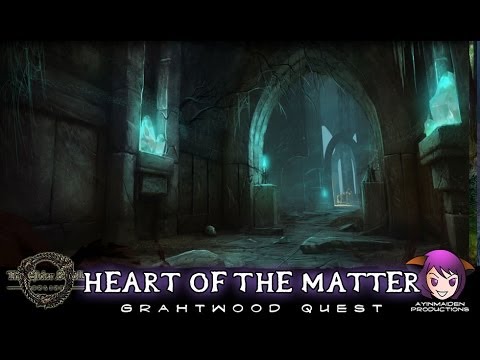 Back to Walkthrough Index | Grahtwood Quests
Join the page discussion
Tired of anon posting? Register!