Anniversary Jubilee Event is a seasonal Holiday Event in The Elder Scrolls Online, used to celebrate the game's launch anniversary every April.
Anniversary Jubilee Event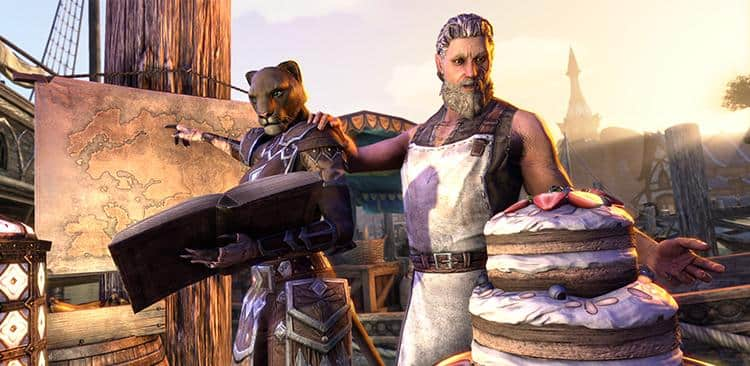 Join us in celebrating The Elder Scrolls Online's three-year anniversary by participating in our delicious special event for a host of unique bonuses and rewards.


To celebrate ESO's three-year milestone from its initial launch, the famous baker of delectable sweets, Chef Donolon, is returning to Tamriel once more. This time he has a new, even-more delicious treat to share on top of some additional rewards to boot!
Anniversary Jubilee Event Dates
The Anniversary Jubilee Event runs from April 4, 2017 at 10:00 AM EDT, and ends on April 18, 2017, at 10:00 AM EDT. on PC, PS4 and XboxOne.
Anniversary Jubilee Event - How to begin
When you log in, find the acclaimed Chef in Vulkhel Guard, Daggerfall, or Davon's Watch and complete his appetizing quest Ache for Cake.
If you are having trouble finding him, check the Crown Store for a free Jubilee Cake Voucher that'll grant you a quest directing you to his location.
Once his quest is complete, the new 2nd Annual Jubilee Cake will be added to your Mementos collection.
You can use the cake to place it in the world. Once placed, anybody within your group can take a slice and (for the duration of the event) receive a two-hour 100% XP buff that stacks with any other active XP bonuses. Have a party!
Other Quests:
Anniversary Jubilee Event Rewards
In addition to the above, all daily and weekly quests completed during the anniversary event will grant you an Anniversary Jubilee Gift Box (along with their regular rewards). These gift boxes contain crafting materials, but they are also guaranteed to include at least one rare item such as Nirncrux, Motif chapters, Style items, Furniture crafting items, or more. Tasty!
Possible Rewards
Anniversary Jubilee Event Achievements
None